Alright, so, we've all played Contra, yes? Sure. Everybody and their mothers have. It was, and still is, known as the "really hard game for NES with the 30 lives cheat". Well, I think this is a disgrace for such a legendary series to not only have such a vague remembrance, but also to be viewed as truly hard and ingenious, in light of its successors and even predecessors. So, I figure what better way to start this series of than with not only one of my personal favorite series of all time *points to avatar*, but a series that gone wholly unappreciated aside from its HIGHLY inferior progenitor. With that in mind, let's begin showing you people why the Contra all of you have most likely played deserves more credit.

Contra Chronology:

-Contra (Arcade)

-Contra (NES)

-Super Contra (Arcade)

-Super C (NES)

-Operation C (Gameboy)

-Contra III: The Alien Wars (SNES)

-Contra: Hard Corps (Genesis)

-Contra: Legacy of War

-C: The Contra Adventure

-Contra: Shattered Soldier

-Neo Contra

-Contra 4

-Contra ReBirth

HISTORY OF CONTRA

A CONTRA IS BORN
Developer: Konami
Publisher: Konami
Year: 1987
Platform: Arcade
Though many of you think of the NES Contra as the first in the series, it wasn't. It was actually the second and a remake of its arcade counterpart which emerged in 1987. If you weren't sharp enough to gather that its arcade counterpart was also named Contra, then there's so little hope for you that an explanation wouldn't have made things any better. Though, if you want to be a smartass and catch me on a technicality, it was ORIGINALLY originally called Gryzor when released in Japan. Now, in light of the era it emerged in, the popular thing was sci-fi/action hybrids. Arnold Schwarzenegger and Sylvestor Stallone were common uses in such films and as such, our heroes Bill Rizer and Lance Bean were modeled after Arnold and Sylvestor, respectively.
So, Koji Hiroshita (the director and mastermind) knowing the illegitimate child of Schwarzenegger and Stallone's movies would be a big hit with arcade-goers, he and Konami spawned Contra and consequently, the run 'n' gun genre. The main idea behind the first Contra was that a nefarious alien overlord by the name of Red Falcon has set up camp on the imaginary isle that is the Galuga Archipelago in the year 2633AD and the testosterone-infested man-saviors Bill Rizer and Lance Bean are dispatched to subvert Red Falcon's big ideas for Earth and preclude its destruction.
Contra (Arcade). Luckily, I have tons of Contra videos on my Youtube, so I can use them for convenience. And in case you were wondering what Red Falcon looks like, he's the big heart at the end.
CONTRA'S COMES HOME
Developer: Konami
Publisher: Konami
Year: 1988
Platform: NES
AKA: Probotector (PAL)
The first ever Contra that you could play for free without being an arcade employee with special keys to *** with the arcade motherboard.
This is also the first (and sadly last) Contra most people have played. The only differences between it and its arcade counterpart were:
-The protagonists Bill and Lance were renamed Mad Dog and Scorpion.
-The levels were longer.
-In level three, the waterfall, the alien tower became an actual alien.
-The American version was rendered from the Japanese version's futuristic setting of 2633AD to a contemporary setting.
Of course, there are 8 billion other changes, but all inconsequential. Well, unless you take the European version into account. At the time, a lot of European countries had a law against the portrayal of humans killing humans (or things that were perceivably human), so the named was changed to "Probotector", which is a portmanteau of "protector" and "robot". As the name implies, the protagonists became robots as well as the enemies you squared off against. Oh, I also forgot, the NES version included a cheat that allowed the player to start out with 30 lives instead of 3. This was and still is lovingly referred to as the Konami code. However, I just call it the "small testicles" code.
Developer: Konami
Publisher: Konami
Year: 1988
Platform: Arcade
One year later, in 1988, the third entry to the series came about: Super Contra. A lot of people were surprised at the difficult increase, since the foolish mortals were silly enough to think the prior version was super hard to begin with. Super Contra didn't introduce anything terribly new to the fledgling series aside from the pseudo-3D corridor stages being metamorphosized into overhead stages, but it improved on almost every facet. Sure, the jumping animations still looked like a salmon jumping upstream to spawn and the campy machismo still intact, but those are staples of Contra, so shut up. Along with a made-famous quote by Bill Rizer in the beginning "What is this place?" in a very obvious Arnold Schwarzenegger-esque voice, Super Contra hit close to home with man-fans.
Unfortunately though, this precious gem of a game was largely overlooked. It was viewed by many as "too hard and inaccessible for a casual player". Well, they're a bunch of pussies. If we'll take a moment to remember, Contra is a MAN'S game, so if you don't have the testicular fortitude to withstand some intergalactic abuse, then gtfo my arcade machine. That aside, along with gameplay, the story didn't change a whole lot either. A year after the previous invasion, Red Falcon redoubles his efforts and invades Earth once again. This time, in an ambiguous area of South America. His plan, however, has changed a bit. This time, he's sent off his minions to commandeer the bodies of the reluctant donors of the GX Army to create an insurrection.
Bill and Lance are once again dispatched to dispose of them. This time, however, Red Falcon looks way cooler than before.
Super Contra. Konami also started naming the bosses in this Contra. The first two bosses are unnamed, but the boss of the third stage goes by Jagger Froid (who is also Red Faclon's second-in-command, the fourth Slave Hawk and of course, our beloved Red Falcon himself. If you'll notice at the end, Red Falcon appears to actually be a tiny little red alien with wings that flies out from the big-ass head after he's been defeated
Developer: Konami
Publisher: Konami
Platform: NES
AKA: Probotector II: Return of the Evil Forces (PAL)
Next up, we find ourselves with Super C for the NES. You're probably wondering why it was called "Super C" instead of Super Contra. Well, no, you're probably not, you probably just thought it was changed because Super C was cooler. Well you're wrong and go sit down. Around 1986, there was an Iranian scandal taking place in which Iran demanded to be sold arms in exchange for the release of Nicaraguan Contra hostages. Super Contra was feared at the time (when it got really heated up), to be confused with this scandal.
Along with the changes in name, Super C also lengthened the stages that already existed and added in stages 4, 5 and 7. As if longer stages and 3 brand new ones weren't enough, they mixed and matched the stage bosses and areas. *Takes a deep breath*
-The sub-boss of Super Contra's 1st stage (The helicopter) became the primary first stage boss of Super C.
-The boss of stage 3 in Super Contra (Jaggar Freud) was moved to stage 7 in Super C and a large mechanoid sub-boss and machine wall took his place.
-The sub-boss of stage 4 in Super Contra (the alien ship) became the boss of stage 5 in Super C.
-Stage 4 and 5 in Super Contra are stage 8 and 6 respectively in Super C.
-The final boss of Super C was no longer Red Falcon, rather, a grotesque amalgamation of a crustacean/woman's face/amorphous blob named Beast Kimkoh who is showcased in the most recent picture above.
Super C wasn't as commercially successful as Contra, but it was in a semi-close second. Though, I personally prefer Super Contra a lot more, because it was thirty times more difficult and rewarding.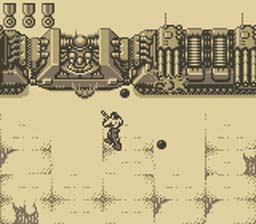 Developer: Konami
Publisher: Ultra Games
Year: 1991
Platform: Gameboy
AKA: Probotector
The last in line for the 3rd generation was Operation C. Operation C is basically a facsimile of Super C for the Gameboy. It bears slight level design differences, but there are few differences to note aside from the removal of the laser gun and addition of the homing gun. Story-wise, Bill Rizer is charged with the mission of infiltrating an enemy base where an alien cell is being preserved. This time, however, Red Falcon is taking a break; his comrade-in-arms, Black Viper, is filling in for him this time around.
THE EVOLUTION OF CONTRA
Developer: Konami
Publisher: Konami
Year: 1992
Platform: SNES
AKA: Super Probotector: Alien Rebels (PAL), Contra Spirits (JP)
You're curious as to why I didn't include Contra Force? Well, funnily enough, that ties into a nice bit of information with Contra III. You see, Contra Force was originally named "Arc Hound" and was meant to be completely secular from Contra. But, for sales purposes, Konami decided to name Arc Hound Contra Force due to the Contra name being more marketable. Konami later on realized that Contra Force shouldn't have been associated in any way with the Contra series, so it was retconned, precluding the prospective name of Super Contra IV for Contra III.
Contra III is, appropriately enough, probably the third most well-known Contra in the series. And for good reason (though, it should be FAR beyond its NES predecessors). With the crossing of platforms, Contra decided to take advantage of its prospective horizons by experimenting a bit. Set in 2636, Red Falcon has had it with defeat. He and his army of alien invaders are no longer endeavoring to thwart the Earth through recondite operations, rather, they are launching a full-scale war against the Earth. In the Japanese version, Bill Rizer and Lance Bean are yet again our protagonists, yet, for some reason, in the American canon, they're replaced with two characters by the name of Jimbo and Sully. Two characters immortalized by their campy dialogue in the opening sequence exclaiming "It's time for revenge!" and "Let's attack aggressively!"
Contra was always a series that revolved around fodder enemies, that you had to plow through until you reached the boss. But weren't the bosses the most fun part? *** right they were. That's exactly why Konami gave everyone a little of what they wanted with Contra III. It brought a perfect mixture of the previous fodder enemy gameplay, added some extra chaos and stochasticity to the mixture and focused on boss enemies. But what truly made this entry terrific was its focus on raw difficulty. On each difficulty level, there were ostensible discrepancies in the gameplay. Enemies and their shots would be faster, bosses harder to destroy and in hard mode, some bosses would implement new functions and abilities to make them much harder.
Thanks to the SNES's capabilities, Konami was just able to explode the game with new ideas to add dimensions to the game. Previous Contras used sheer enemy firepower in an attempt to overwhelm the player, whereas Contra III does this, it also implements brilliant environments that you have to combat in concurrence with the enemies. Overall, the environments were just more interactive, including the the ability to climb across bars, up walls, on ceilings, destroy certain parts of the stage or circumvent stage hazards. It was also the first (and last) Contra to use Mode 7, which is a texture mapping graphics mode that allowed depth to be portrayed at the exchange of height. Examples of this would be the overhead stages 2 and 5
As far as pure gameplay goes, Contra 3 was the first Contra to introduce a second-hand weapon. You could carry two weapons at one time and would lose only one if killed. Due to the diverse nature of the game, the dual weapon idea is ingenious, as it forces the player to constantly choose the best combination of weapons for any given situation. As if all of that wasn't enough, Contra 3 also introduced two new weapons to the fray and radical changes to the previous ones. The new weapons include the crush gun, which is a very strong, but very slow missile. The second is a smartbomb, which can be detonated to eliminate all on-screen enemies, granted they don't have much health. The adjustments to classical weapons include:
-The flame gun is now the flamethrower.
-The homing missile is rapid-fire.
-The laser is longer and has a set rate of fire.
-The standard machine gun is rapid-fire.
There were also sequences in many stages in which your surroundings played a large part. Riding missiles at high speeds on stage 4, navigating quicksand whirlpools in stage 5, etc. In short, the highly interactive environments accompanied by the harassing enemies and tough bosses made for an unrivaled experience in the Contra series yet. And though Contra III only featured 6 stages, each one was exceptionally long, taking, on average, around 5 minutes to complete.
Developer: Konami
Publisher: Konami
Year: 1994
Platform: Sega Megadrive/Genesis
AKA: Probotector (PAL)
Contra Hard Corps is one of the more overlooked games in the series, but not one of the least regarded by those who didn't overlook it. Hard Corps, while not as groundbreaking as Contra III, ousted some of Contra III's features and exchanged them for some brand new ones. It was also the Contra that got hit the hardest when it came to version changes in the PAL region, thanks to them being afraid of everything at the time. In the year 2641, the Alien Wars have stopped and an organization has been formed to maintain that peace and order by the name of the Unified Military Special Mobile Task Force K-X or, if you want it to sound cool and not like your mom made it up, the Hard Corps. That peace is disturbed when an alien cell from the Alien Wars is pilfered by a decorated war hero by the name of Colonel Bahamut, who enlists the aid of his cohorts Deadeye Joe, Dr. Geo Mandrake and Noiman Cascade.
In the American and Japanese versions, Roy Poward is a former delinquent who has become a soldier to front the Hard Corps who replaces our former heroes Bill Rizer and Lance Bean. He is accompanied by three other Hard Corps members by the names of Sheena Etranzi who is a nondescript female soldier, Brad Fang, who is a werewolf with a gun-arm and Browny who is a small robot with an amicable personality. In the PAL version, all characters are replaced by robots named CX-1, 2, 3 and 4 respective to Ray, Sheena, Brad and Browny. Here's where it gets funny. The changes in story between the US and PAL versions are as follows:
-The alien cell is renamed the "X Drive" which is a powerful energy source instead of a malevolent alien.
-One of the endings involves you agreeing to join Colonel Bahamut in world domination, which shows a slide at the end describing how he and you became the most horrible tyrannical dictators the world has ever known. This ending no longer exists in the PAL version.
I wonder why they did the above, eh? Anyway, Hard Corps is widely regarded as the hardest in the series. I will tell you right now that it's not. While it is hard, I will tell you why it isn't the hardest. One of the new changes it implemented was an almost complete absence of the series' staple of fodder enemies and an adaption to the other extreme of being almost purely boss fights. This being said, some of the bosses themselves were intensely difficult, but having set patterns made it so the absence of fodder enemies gave you a lot of room to mess up.
Along with this change, three other very notable ones accompanied. These were:
-The ability to choose between four unique characters: Ray, Sheena, Brad and Browny. Each one with unique heights, slide distances and weapons.
-The ability to choose different paths to reach different levels/bosses/endings based on two points in the game in which you make a decision. Each decision has two options, so mix and match that our of four, you have four possible endings, plus bonus ones.
-The ability to hold up to 4 weapons at once plus a smartbomb.
The gameplay itself was also very unique, in which bosses were so diversified that all four weapons each character possessed were necessary for many different scenarios. Sliding, while also important, was only necessary in few parts of the game, so it's not worthy of ample mention. Characters typically possessed a rapid-fire weapon, an explosive, a homing weapon and spread weapon.
In gameplay, the only differences between versions are that in the Japanese version, you are given a lifebar with 3 energy units that you wouldn't allow you to die unless all 3 units were depleted by being hit.
Hard Corps was also lauded for its comical cameo of a Castlevania song and character. At stage 3, you can take a hidden route to go to an alternate dimension where Simon's Theme from Super Castlevania IV plays remixed. This makes sense, considering Michiru Yamane (Castlevania composer) helped compose the soundtrack for Contra, which I find really... really unusual.
Developer: Appaloosa Interactive
Publisher: Konami
Year: 1996
Platform: Playstation and Sega Saturn
If there's a Contra that's never been heard of, it's this one. And for very good reason. Contra: Legacy of War is regarded as the most misguided and failed attempt at a Contra game, and maybe even a game in general. With Legacy of War, Konami decided to leave the development in the hands of a Hungarian development company called Appaloosa Interactive. Needless to say, their greenhorn habits plagued the game.
And I can honestly say that the biggest irony lies in the fact that most of the story thus far is explained by Legacy of War, so the one nobody wanted to play had all the information and specifics. Smart move of Konami's part. Though it gives plenty of info, the core plot itself almost exactly identical to that of Hard Corps. Not surprisingly, it also stars Ray Poward once again. A dictator of a small, undisclosed country was sold a smuggled alien embryo, and is using it for his own nefarious purposes. Being made aware of these events, the government dispatches Ray once again to eliminate the threat of Colonel Bassad. He is accompanied by his bionic teammates, Tasha, CD-288 and Bubba.
So, you've probably gathered by now that Legacy of War is a woefully misguided attempt at transmigrating Hard Corps to the Playstation. All of the game's basic facets are indicative of this. Four playable characters with unique weaponry and the ability to hold four weapons, similar story, etc. But what makes them different is unmistakable.
Legacy of War tried to translate the Contra series into a 3D world. Not the best idea to hand a heavy task like that to a newbie dev company. But I think they realized how crappy it looked and that's why they included a pair of 3D anaglyph glasses. Worst yet, the game was not compatible with the analog stick, so you found yourself in a 3D world with 2D controls. This is probably the biggest reason this game was poorly received. Navigating the game was just too much of a chore. It quite literally feels like you're weaving in and out of traffic cones with a square-wheeled cargo truck.
So, avoid playing it unless you're masochistic. It was also the first Contra to suffer no PAL changes and to never hit Japanese shelves. I wonder why.
Developer: Appaloosa Interactive
Publisher: Konami
Year: 1998
Platform: Playstation
Oh, boy. Another Appaloosa entry. Though, I can give C: The Contra Adventure credit, as it at least retains some semblance of enjoyability.
Appaloosa really took a gamble with CTCA. They were well aware of the immense commercial failure of their previous installment, but they still decided to innovate. CTCA is almost more difficult to accept as a Contra game than Legacy of War, despite it being a fraction better. The reason being that it is almost entirely (full) 3D (Legacy of War was a 3D environment with a 2.5 sprite and a quasi-isometric perspective, whereas CTCA is full 3D and is comparable to a 3rd-person perspective.), but unfortunately, it still didn't fix a lot of the problems presented to Contra being in said environment.
The opening stage is in 2.5D and is a sidescrolling level that is actually quite enjoyable. But stages 2-7 are all 3D, with the last level, 8, as the only other sidescrolling level. First of all, bad move number 1 is giving the player a life bar. You now have a full life bar that must be depleted before you lose one life. Bad move number 2: the inclusion of overhead enemies and a shoddy auto-aim feature. Why this is bad, is because if any enemy is moving, you're constantly shooting where it just was two seconds ago thanks to the slow fire and overhead enemies you couldn't concentrate fire on... at all. So you'd spend 15 minutes trying to neutralize an airborne boss, since you'd only be able to snip away at its HP since you had to jump repeatedly to fire at them.
The final worst move, was trying to turn Contra into an actual adventure game. You shoot switches, open gates, get lost and get rewarded with more of the same. The only things that made CTCA feel like a Contra game were the fact that you had a gun and the lame cameos. The cameos include:
-Stage 7. Stage 7 is a 3D redo of the tunnel levels from Contra. You're behind a laser barricade and have to take out the weak points on the wall. Sadly, this is where the game's inadequacy shines the most, since almost everything is moving fast and in the air, so you can't shoot 90% of the enemies.
-Stage 8. The final stage that includes pods complete with facehuggers coming out, and a blast from the past against the boss of stage 3 from Contra III, the Robo-Skeleton.
Aside from the change in perspective and how you die, CTCA wasn't much different from Legacy of War. The only differences of note were the story (which is so lame and redundant I almost forgot to mention it. A meteorite crashes in a South American jungle in a Mayan temple and our favorite warrior, Ray, is sent off on his final campaign to neutralize the alien the meteorite brought), the first Contra to lack multiplayer and the fact that it was the only American-exclusive Contra game.
WELCOME BACK, CONTRA!
Developer: Konami (OH THANK GOD)
Publisher: Konami
Year: 2002
Platform: Playstation 2
AKA: Shin Contra (JP)
It was a long... LOOOOOOOOOOONG 6 FREAKING YEARS since we last had a good Contra. And let me tell you... Konami loves its fans. It knew what the bad Appaloosa did to us and it knew just the cure: Nobuya Nakazato; the man responsible for Contra III and Hard Corps. Shattered Soldier was different... but it did "different" right, while still retaining and even improving on our beloved Contra. But what else can we expect from the man who took everything great about Contra and magnified it with Contra III? So, we find ourselves back to our 2D roots with the gameplay, with 2.5D graphics. What we also find is that Contra has taken a strong turn from a little campy and cheesy to... pure, ***, unadulterated bad-assery. Even the story was excellent. To give you an idea of how serious and badass a turn it's taken, just listen to the story. Bear in mind though that this story is localized to the Japanese canon, so the American canon that sets the Contra universe in a contemporary setting is extricated and replaced with the original futuristic one.
In 2642, Earth remains almost irreversibly scarred from the previous alien wars. It is completely war-torn. The Earth is now governed by 3 men who are bound by cerebral implants as to share thoughts and unify, known as the Triumvirate and Bill's former partner, Lance, is presumed dead after Bill is accused of murdering Lance as Lance tried to stop Bill's alleged crime against humanity. As if things weren't bad enough, 80% of the Earth's population is decimated by an errant hyper-magnetic weapons grid malfunction. Bill Rizer is held accountable for this calamity as well as the murder of Lance Bean and sentenced to 10,000 years in cryogenic prison.
Five years later, however, the Earth is under siege again by a terrorist organization known as Blood Falcon. In light of Bill's sterling record of success in the past, the Triumvirate elects to expunge his sentence prematurely to confront the Blood Falcon organization. He is partnered with a cybernetic woman by the name of Lucia, who was created from the designs of Dr. Geo Mandrake and charged with the task of probation of Bill Rizer.
After confronting the leader of the organization, he finds that his partner Lance is still alive... and that he is the leader of Blood Falcon. After the destiny confrontation, Lance's dying words explain everything to Bill Rizer. (Here's where it gets REALLY good)
Lance fused himself with an alien and became the terrorist leader not because he wanted to destroy earth, rather to retrieve the Relic of Morai. The reason being is that he discovered shortly after the Alien Wars that the aliens were not capricious overlords; they were seeking to reclaim something that was stolen from them: the Relic of Morai. Lance explains that many years ago, before everything had happened and the Earth was solitary, the GX army was on a mission to investigate Jupiter. On Jupiter, they stumbled upon a temple where they found the Relic.
Earth's leaders confiscated it and stored it away. This is when the alien invasion begun. The government knew why the invasion occurred, but retained the Relic for their own purposes. When the year 2642 came around, the Triumvirate discovered the power of the Relic and framed Bill Rizer for the hyper-magnetic weapons grid malfunction so he would be jailed as to not interfere, until Blood Falcon arises, and he is needed once again.
So Bill confronts the Triumvirate and destroys them. He returns home a hero once again.
That probably just explained how badass this Contra is. I can't say it enough. To make it better, Akira Yamaoka of Stepmania and Silent Hill fame, came in to compose a dark, gritty and driving soundtrack to suit the game's war-torn environment.
As if these changes weren't enough, the gameplay made numerous improvements. In Shattered Soldier, instead of scrolling through the stages in order, you are allowed to choose between four stages to go to in any order, plus three stages that you can't choose the order of. Secondly, weapon pickups no longer exist. You are instead given 3 set weapons with two functions: standard and charged. The machine gun, flamethrower and a grenade launcher.
Probably the most interesting change in gameplay was the "Hit%" system and the accompanying ranking system. Each stage had certain enemies that had to be destroyed to increase your hit%. Depending on how many of these enemies you killed, your overall rank would be affected. 100% yielded S, 99% and below was A, etc. Your rank would also affect your ending and how far you would progress, giving you incentive to play better.
Alongside classic gameplay, a lot of classic enemies were brought back, but this time, in great style and pizazz. In Shattered Soldier, we see the return of:
-Slave Beast Taka (Stage 1 boss of Contra III)
-Alien Carrier Craft (Stage 3 sub-boss of Contra III)
-Red Falcon (I don't think I need to explain)
-Red Falcon's Heart (See above)
-Super-Powered Robot, Yokozuna (Boss of the train stage in Contra: Hard Corps)
Shattered Soldier is widely recognized as the revival of the series as well one of the hardest. I couldn't possibly agree more. Welcome back, Contra!
Developer: Konami
Publisher: Konami
Year: 2004
Platform: Playstation 2
Neo Contra is easily the most unique of the series to date. Over-the-top is a gross understatement. Though Neo Contra is widely criticized as being a second-rate entry to the series, this is entirely untrue. The criticism is due in part most likely to the somewhat peculiar take on the gameplay, which is in an isometric perspective.
Neo Contra was just an amalgamation of new with a perfect mixture of old. The player is set in an isometric perspective of the now prison planet, Earth, in the year 4444. The Bill Rizer we play as in this installment is actually a clone of the original, which is why he is still alive. He, however, does not know this. However, he is sent to Earth alongside a mysterious Samurai by the name of Genbei "Jaguar" Yagyu (for some reason he's a black samurai with a top-knot fro... ?) to confront yet another new threat, called the Neo Contra. Unbeknownst to Bill, the leader of the Neo Contra is none other than himself; the original Bill Rizer.
As it turns out, the original was fused with a weapon as the ultimate soldier in hopes of indefinitely protecting the Earth from invaders. As such, he became corrupted somehow. Along with him, his former partner, Lucia, is corrupted.
So, the series took a slight step back from the sordid setting for a new take on being completely outrageous. For a majority of the game, you're set in an isometric perspective, but don't worry, Konami long since improved on Appaloosa's crappy implementations. Neo Contra features full 3D gameplay with 3D controls, but 2D firing. This means you seldom have to shoot in a third dimension, making the gameplay incredibly smooth. There are still aerial enemies, however, each weapon set is assigned a homing weapon, which locks onto to aerial targets if you aim in their general direction. A good comparison of the perspective and how it works would be the overhead stages of Contra III. Nobuya Nakazato confesses though that he had second thoughts on developing an isometric perspective Contra game, due to how difficult it would be to include a 3rd dimension. The homing weapon solved this predicament and allowed for Neo Contra to continue being developed as it was.
Speaking of weapon sets, Neo Contra takes Shattered Soldier's idea and improves upon it. Instead of having 3 set weapons, you now have a choice between up to 6 sets of 3 weapons, making 18 total weapons. All of which kick equal ass. There are also a few weapons from the game Gradius, such as the ripple laser.
As far as outrageous gameplay goes...
-The sub-boss of stage 1 is a giant flower with a deformed infantile head.
-On stage 2 you ride on velociraptors.
-Stage 4 begins with you running across moving helicopter blades. It ends with you surfing on a warhead.
-Stage 7 is a fight against the real Bill Rizer's mutated, fleshy head on a rocket that is plummeting towards Earth in space.
It also had some very niche cameos:
-In stage 5, you fight two bosses. The first is the massive, cycloptic scorpion boss from stage 4 of Operation C. The second is Red Falcon's preserved head in a stasis tank.
Overall, Neo Contra was just pure fun. It took away the boss enemy focus that the previous two Konami developed Contras had and found a balance in the middle of fodder enemies and boss enemies, much like Contra III. The ranking and hit% system in Neo Contra were much more lenient, however, allowing an S rank with only 98%, meaning you could die once and still achieve S rank. The enemy targets were much harder to locate though, since the maps were free-roam.
It was critically received due to its rather strange adjustments, but the core Contra gameplay is fully intact and the fun factor just as much so.
HAPPY 20TH BIRTHDAY CONTRA
Developer: WayForward Technologies
Publisher: Konami
Year: 2007
Platform: DS
At long last, what fans had been waiting for: a faithful recreation of all that made Contra great at its very roots. Contra 4 was the celebration of Contra's 20 years of legendary gaming. As such, it was also one of the best entries to the entire series. It was, plain and simple, an amalgamate of everything good in the series. Contra 4 has its finger dipped in every pie of the series.
So, we start out in 2638; approximately two years after the alien wars. As usual, all seems well with Red Falcon seemingly vanquished. But do you remember that other baddie who got sick of Red Falcon's repeated failures and went postal in Operation C? That's right, Black Viper. This time, he's back and more pissed off than ever. So, the Earth Federation sends off its four greatest warriors, Bill Rizer, Lance Bean, Mad Dog and Scorpion. The funny thing about the inclusion of Mad Dog and Scorpion is the fact that they're technically the same people as Bill and Lance, as these were their pseudonyms in the American NES version of Contra.
Contra 4 truly is a game made by Contra fans for Contra fans. The classical gameplay with contemporary elements interspersed creates the best mixture yet. Throughout the game, many sights old and new present themselves. Stages and bosses revived with beautiful polish. Contra 4 is arguably the longest non-mission based Contra in Contra history, with 9 stages, each around 5 minutes long. Most stages are redesigns and re-imaginings of classic Contra stages from Contra and Contra III primarily. These include the Galuga archipelago, waterfall, tunnel stages, Neo City and motorcycle chase level.
But you want some more reminiscent fuel? You'll see a few familiar faces such as:
-The classic tower boss from stage 1 of Contra.
-The boss from Contra's stage 2.
-The alien boss from the waterfall of Contra's stage 3.
-The submarine boss from Operation C's stage 1.
-The tank sub-boss from Contra III's stage 1.
-The robo-skeleton from Contra III.
-Red Falcon's heart.
-Black Viper is in improved version of Red Falcon.
-Jimbo, Sully, Sheena, Lucia, Probotector, Bill, Lance, Scorpion and Mad Dog, all as playable character. Though, no discrepancies are between them aside from aesthetic differences. Jimbo and Sully also exclaim the famous quote from Contra III's opening sequence after respawning "It's time for revenge!" and "Let's attack aggressively" both complete with thick southern drawls.
Contra 4 also featured the usage of the dual screens. They couldn't have been implemented better. It adds to the challenge greatly, as it necessitates a great deal of multitasking and a constant awareness of your surroundings. It also allowed for the introduction of a grappling hook used to scale tall obstacles.
Now we look at the difficulty. Contra 4 is considered to be THE hardest Contra yet. Out of all. Konami and WayForward had it with people cheating and never truly experiencing the true nature of Contra, so they really cracked down. You have three difficulty choices: Easy, Normal and Hard. Easy disallows progression beyond the seventh stage. Normal gives you the normal ending and hard gives you the best along with a congratulatory message. In easy mode, all weapons you grab are automatically upgraded. In normal and hard you are required to grab two of the same weapon to upgrade it. Easy mode allows for 10 lives per continue, with 5 continues. Normal allows 6 with 4 continues and... the brutal part... hard allows 3 lives with 2 continues.
Now think... 9 stages with 6 lives. Think you got it in you to beat it on Hard? All of this is what made Contra 4 amazing. An absolutely perfect mixture of classic with contemporary. A true man's game. Ye of little testicles, turn back now. But if even Hard mode didn't satisfy you, Contra 4 comes complete with a challenge mode. 40 challenges that you can choose from that give you a specific task complete. The more you progress, the harder the missions become. Some of these mission types are:
-Bad Guy Blitz: Reach the end of the stage while surviving the enemy onslaught.
-Gunplay: Finish the stage using the specialized weapon. In gunplay missions, you are given either the classic laser or a homing gun that fires five rounds shaped like the ship from Gradius.
-Rematch: Fight a boss from the main game with set weapons.
-Pacifism: Reach the end of the stage completely unarmed.
There are many more, but with each, you only have one life.
Contra 4 let us Contra fans know that Contra is eternal and that Konami didn't lose sight of where Contra began over the years.
Developer: M2
Publisher: Konami
Year: 2009
Platform Wii (Wiiware)
So here we are at the very last entry to the Contra series to date: Contra ReBirth. Contra ReBirth is the first in a series of "ReBirth" games done by Konami for Wiiware in conjunction with Gradius ReBirth and Castlevania: The Adventure ReBirth. It's speculated that the title of "ReBirth" in each has more meaning than just a a classic re-entry to the series, rather, a priming for prospective theoretical titles to be released.
Contra ReBirth's story is pretty interesting, despite it being somewhat vague. The reason it is interesting is it converges the two Contra canons of American and Japanese. The year is 2633, the date of the original Contra and a reptilian/humanoid alien tyrant by the alias of "Colonel Salamander" threatens the Earth. Seeing that the Contra have thwarted Red Falcon, the Neo Salamander Force travels back in time to 1973 to eliminate the Contra force while it is still primitive. So Bill Rizer and his compatriot from Neo Contra, Genbei "Jaguar" Yagyu are sent back in time to an Earth in 1973 being dominated by the Neo Salamander Force. Lance Bean was sent long before these two, but is operating incognito as a woman in a remote South American town. They are also assisted by a droid named Brownie, who is a female version of Hard Corps' Browny and later on, a lizard alien named Plissken, who turns out to be the Colonel Salamander attempting to infiltrate the Contra.
As it turns out, Plissken is using a super-weapon by the name of Zelos Force to orbit as a satellite around the Earth, threatening to destroy it if his demands are not met. Interestingly, Zelos Force is also the name of an identical boss from the planet Salamander throughout the Gradius series.
As if this strange story wasn't strange enough, Contra ReBirth made some aesthetic changes that was viewed as very alien (pun intended lol) in respect to the Contra series. Contra ReBirth was presented in a very cartoony style, which deterred some players. It was also said to lack cool-looking bosses (which it did). But the gameplay itself retains its roots as a Contra game and remains a solid, challenging entry to the series.
Notable differences from past Contras include the extrication of many weapons, with only the standard machine gun, laser, homing missile and spreadshot to choose from. Differences between the American and PAL versions are that the PAL version, which was released on September 4th, 2009 (3 days earlier than the US release of September 7th, 2009), had a debug menu, allowing for cheats to be implemented.
Lastly, it also was the first Contra to present a difficult higher than Hard, called Nightmare. Nightmare mode is hard mode, except when you destroy an enemy, a small blue ring, reminiscent to Gradius' enemy fire, will slowly gravitate towards you, which you have to shoot to eliminate. Many consider Nightmare mode's strange addition to be unnecessary and to actually subtract from the gameplay.
So, that concludes the first entry of the Contra series to the Games You Need to Know About series. Contra started out great and it's only gotten better with age. Every one of you people needs to go out and start playing these fantastic games. They are a gamer's nirvana in every way. Contra is just a perfect mix of instant gratification, skill progression, replay value and action. If you seek to strive to the highest levels of gaming, look no further than Contra.
What I feel has always made it unique is the competent level designs, ingenious enemies and bosses and the rapid maturation of the series to include something new to use against the player with each addition. You do no deserve to be called a real gamer unless you've beaten at least 2 Contra games on Hard.